Arkansas' FlagandBanner.com will host nine fifth-grade students from Wilson Elementary School on Thursday, March 19 from 10 a.m. until Noon as part of the school's Panthers On Site program. This innovative Partners in Education program gives students living in at risk environments first hand experience in real world workplace situations.
Kerry McCoy owner of Arkansas' FlagandBanner.com said, "Hosting a group of students and letting them experience the workplace can leave a lasting impression on these young people.  It lets them know we are just everyday people doing everyday jobs and that this is attainable for all Americans."
In it's fortieth year in business, Arkansas' FlagandBanner.com feels lucky to have accomplished so much and wants other young people to know hard work pays off.  Small business is the back bone of America.
"Opening our doors to these children, is a great way for us to pay our knowledge forward. There is no better training ground for young people than to work in a small business where you can see how everybody makes a difference from the CEO to housekeeping and everyone in between.  It is real life team building and accountability."
Arkansas' FlagandBanner.com is based in Little Rock, Ark., and has been in business since 1975. They have been selling flags, flagpoles, banners, pennants and home and garden décor online nationally since 1995 as FlagandBanner.com.
For more information, log on to FlagandBanner.com, become a fan on Facebook, or call one of their Flag Experts for answers to any and all questions about flags, banners, pennants and more at 1-800-445-0653.
Read more: http://www.washingtontimes.com/news/2015/feb/18/world-war-ii-marines-return-to-iwo-jima-on-70th-an/#ixzz3SDS9T5th
You can find the full story at the U.K.'s Independent but here is a small excerpt:
Graham Bartram's best and worst flags
South Africa: 'It has more colours than we would advise but it just works. It was known as the Rainbow Flag and South Africa is now known as the Rainbow Nation.'
Zambia: 'All the important bits are on the right-hand side. The design won't be seen when the flag hangs down. You have to move the eagle and the coloured stripes to the other side.'
Greenland: 'It's white over red, with a red over white circle in the middle. It's very simple, it's very striking and I think it's just a great flag.' (Though in our humble opinion the flag does nothing to make you recognize it as Greenland. Perhaps if it was green instead of red it might make more sense to people not from Greenland.)
Turkmenistan: 'It's a lovely idea: a stripe down one side which is carpet motif. But it's incredibly complicated. To draw that is a nightmare. The level of detail is extraordinary, it is an actual carpet design. Drawing it took me two week."
Kerry McCoy, owner and president of Arkansas' FlagandBanner.com was the recipient of the Betsy Ross Award from the National Independent Flag Dealers Association (NIFDA). This award is the highest honor in the flag industry. The purpose of the award is to recognize an active member in good standing with NIFDA who has gone above and beyond the call of duty to become a successful flag dealer and bring service, visibility and positive attention to the flag industry.
Arkansas'  FlagandBanner.com is celebrating their 40th year in business throughout 2015. McCoy opened her flag business, Arkansas' Flag and Banner, in 1975, and during 40 years the operation has progressed from door-to-door sales to the Internet. In 2000, the company began marketing as simply FlagandBanner.com.
FlagandBanner.com started as a one-woman company with McCoy handling all aspects of the business. That small flag business has grown to become a multi-million dollar success located in downtown Little Rock at 800 West 9th Street and now employs a staff of 25.
FlagandBanner.com's other awards include:
Blue Chip Enterprise Award from Connecticut Mutual
(2 time) Arkansas Business of the Year Finalist
ADDY Bronze Award
ADDY Outstanding Achievement Award
1st Place Commercial Sign Design Contest
3rd Place International Sign Contest
Multiple honors from military units
Learn more about FlagandBanner.com at http://presscenter.flagandbanner.com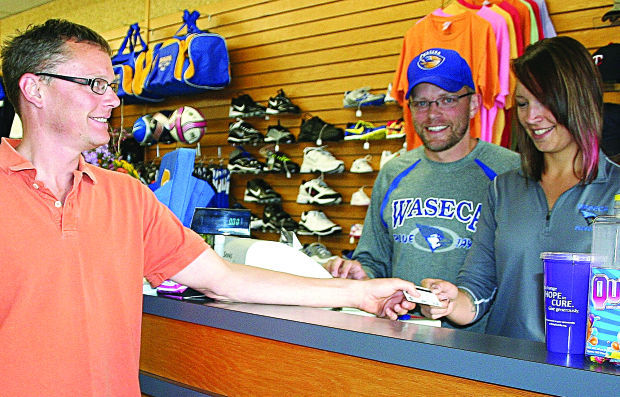 Waseca's Jeremiah Miller, center, is seen at Four Seasons Athletics in 2013 next to his wife, Jaala, shortly after they purchased the business. Miller won this year's Distinguished Service Award. (County News file photo)
Posted: Monday, February 2, 2015 7:45 am | Updated: 2:41 pm, Mon Feb 2, 2015.
By ADAM J.S. HOLT aholt@wasecacountynews.com
A few years ago, Jeremiah Miller was out for a run when he started noticing flags.

Not all the American flags he saw flying were in the best condition. That got him thinking about how pricy flags can be. And about how that might make it difficult for military veterans to be able to fly flags in front of their homes. It didn't sit well with him.

"It's not right that veterans have to pay such high prices for something they fought and died for," Miller said.

So he's trying to change that. Miller is starting a non-profit organization called Free Flags for Veterans, with the goal of supplying American flags for military vets, free of charge. As a member of the Army National Guard who served deployments in Iraq and Afghanistan, the matter holds special importance for him.

When Miller initially came up with the idea, he started a Facebook page and got support from people as far away as Kentucky and Arizona. That made him realize he was on the right track, but had to scale things back and start locally to realistically get it off the ground.

Free Flags for Veterans started as an idea, but has gained traction recently. Miller said he's raised $625 since October and his putting on an "All Gave Some, Some Gave All" 4K run/walk around Loon Lake on Feb. 15, with funds going to the non-profit.

"I think just him being able to start getting that part of it, and actually put his thoughts into plan and working for it, as a family, we're right next to him and stand behind him 100 percent," his wife, Jaala Miller, said.

As with everything else Jeremiah does, it's become a family affair. His four kids are now acutely aware of the condition of every flag they see.

"I've actually got my kids now looking at flags flying around town," he said. "They're like 'Dad, look at that flag! It's shredded.' Or, 'Dad, did you see that flag, it's wrapped around a pole.'"

Miller has the paperwork set and people can donate on an online site called Piggybackr. He wants to eventually get a wholesale account to get the flags, but for now is considering working with someone local to get an initial order done, just to start distributing some flags. In time, Miller wants to provide poles and lights, too.

It's just one thing Miller thought he could do to support his fellow veterans.

"We've all shared the same thing, and they're going through a lot of the same things," he said. "Just helping any veterans is awesome, so that is majorly important. And their families, you can't forget their families."

More information on the organization can be found at its Facebook page,https://www.facebook.com/freeflagsforvets.
Story originally published at: http://www.southernminn.com/waseca_county_news/news/article_c2001516-e497-59a9-b3ec-d76cca21f1a3.html
FREEPORT (WGME) — Even with a blizzard bearing down on Maine, the Freeport Flag Ladies showed how dedicated they are to their mission.
The ladies were out as usual Tuesday morning on Main Street in Freeport, waving their flags and honoring those who serve our country.
They've been doing this every Tuesday since September 11th, and clearly, nothing will stop them. They say they didn't stay out as long as usual Tuesday morning, but who can hold that against them.
The big game is this weekend. Here is a chart from the National Retail Foundation that surveyed consumers age 18 and up about the Super Bowl Commercials.
Opinions On Super Bowl TV Commercials
Information
Among those who plan to watch the Super Bowl answered the questions below.
Charts from the NRF Foundation's Retail Insight Center. To access this data and more research please visit the Retail Insight Center.
You can find this chart and more about Consumers and the Super Bowl here: http://research.nrffoundation.com/Default.aspx?pg=56#.VMfZEC6jt52
—————————-
You can find flag kits like those above at FlagandBanner.com
By ERNEST ROLLINS, Brazil Times Reporter
Park to honor all 5 military branches
Indiana – Three local agencies are spearheading major construction projects this year that would honor the county's past, present and future service men and women.
The Eliza Rizley Stacey Clay County chapter of the Daughters of the American Revolution (DAR), the Veterans of Foreign Wars Post 1127 and American Softball Kids are working to build a military park that would feature softball fields and a veterans memorial honoring all five branches of the military. Craig Park has been selected as the location of the military park.
DAR Veterans Committee Chairwoman Cindy Kowitz said three years ago club members expressed interest in doing a memorial for the six revolutionary war soldiers buried in Clay County. After searching for an area to plant six trees and install six markers in the soldiers' honor, they found out ASK was thinking of doing something similar.
"(After hearing about ASK's goals for the military park), we just jumped right in and said 'hey, this is something that we wanted to do and have been talking about it for a long time in the club,'" Kowitz said.
ASK representative Karen McQueen said the VFW-sponsored softball program has been seeking a more permanent field to play and began discussing the prospect of using property in Craig Park in Spring 2015. Since that time, through donations and a $5,000 grant from the Clay County Community Foundation in 2014, they are closer to their goal of opening up the softball fields with a tentative groundbreaking ceremony for the first field scheduled for next month.
"We were very fortunate to get the money," McQueen said about the grant. "It shows they see the softball field being a huge asset to the community."
In honor of the continuing VFW support and to recognize all service men and women in the county, it was decided the first field be named Veterans' Field.
"The VFW is backing us and the military has always been near and dear to us," McQueen said. "We have a lot of family members who serve in the military. We just want to give back to the armed services."
Memorial to honor all five branches of the military.
While ASK works to get the fields in place, DAR and the VFW are working to create the memorial. The agencies are already fundraising for the project. The goal is to have enough money to complete the project by Veterans Day.
Preliminary plans are to construct a five-point star featuring each service branch.
"Each point will display a service insignia laser-engraved in a black granite stone, as well as that branch's flag," according to a news release from DAR. "The American flag will be highlighted in the center of the star, and will always be lit at night to signify that our servicemen and women are always working to protect our nation."
In addition to the star, six shade trees will be planted in honor of the six revolutionary war servicemen and there will be a brick-paved walkway, the release continues. Kowitz said French Funeral Home has committed to donate the six trees, markers, five granite military branch emblems and an engraved bench to the cause. The VFW Post 1127 will provide all the flags for the park.
Also, anyone can purchase a brick that can be designed to their liking through DAR for $50.
Kowitz said local residents or businesses interested in donating can do so by contributing to an account at Riddell Bank titled "Craig Military Park." Also, the VFW post will host breakfasts each Monday from 8-10 a.m. at the post's headquarters on South Depot Street. A free-will donation will be taken with all proceeds going to the memorial. For more information about the memorial contact Kowitz at 812-443-0150.
"We're just real excited about it," Kowitz said. "We think it is a very important project. They need to be honored. Not just the people who died but all military personnel."
Original story: http://www.thebraziltimes.com/story/2159746.html