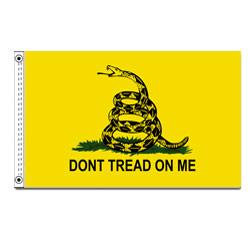 Earlier this month, the United Veterans Memorial and Patriotic Association in New Rochelle, New York were told they could not fly the Gadsden flag because it was seen as an "offensive" Tea Party symbol. The Gadsden flag is the bright yellow "Don't Tread On Me" flag that has been seen most recently at Boston Marathon bombing memorials. The Gadsden flag ironically represents freewill against oppression.
The Gadsden is not a symbol of the Tea Party or any other political group. While the Tea Party group does use the Gadsden flag at rallies and political events, it is not their symbol. The Gadsden has been in use since the Revolutionary war. The Navy and Marine Corps first used it in 1775. Ships on the sea at a distance could easily see the bright yellow color.
"The original flag was designed to show Great Britain that the American Colonies would no longer accept "being walked all over", said FlagandBanner.com president Kerry McCoy. "The colonists were angry about taxation and the very idea that a King who had never stepped foot on American soil could control their fate."
The Gadsden flag has been used throughout American history as a symbol against oppression or in the last few decades, as a symbol to show the world that the American people will not be cowed by terrorism. Labeling the flag as a certain political parties' flag would be an incorrect assumption.
The human race has used flags for more than 4,000 years according to researchers. The first flags were made of metal and then about 2000 years ago, fabric was added as decoration and then continued to evolve to the flags we know of today.
In medieval times, knights carried flags into battle so that the soldiers could tell friend from foe during the confusion of battle. Likewise, modern soldiers have flags sewn on their uniforms for easy identification during battle.
Today, every nation in the world has their own flag, with symbols or colors representing their nation. The American flag for example has 13 stripes to represent the original 13 colonies and 50 stars to represent the 50 states.
In America, every state has their own flag and many groups and corporations also have their own flags. The Olympic flag is a good example of a group using symbols as representation of their goals. The Olympic flag has 5 rings that represent the coming together of people from five continents in friendly competition.
Flags can represent many things at once including messages, identification, or just used for beautification. One flag may represent many different things to different people and one flag may have many different styles or uses.
In fact, the Gadsden flag itself has several more connotations from history, the snake against a white field, or a red and white striped field. You can see examples at FlagandBanner.com.
FlagandBanner.com has opened a new office in Fayetteville, Ark., with a ribbon cutting ceremony hosted by the Fayetteville Chamber of Commerce on April 11, 2013.
The new location will be managed by Jack McCoy. McCoy is the son of FlagandBanner.com owners Kerry and Grady McCoy. Kerry McCoy says, "We are excited our son, Jack, has chosen to work in the family business and we are thrilled it is in Fayetteville. The North West area of Arkansas is a rapidly growing part of our state and we want to be a part of it, too."
"Opening a new location to serve North West Arkansas provides additional benefits to our customers in that area," Jack McCoy says. While FlagandBanner.com has always served customers across Arkansas and the nation via their website, now North West Arkansas customers can enjoy the added benefit of a local salesperson for on-site consultations and local installation services of flagpoles or other specialty banner and commercial display installations.
FlagandBanner.com is based in Little Rock, Ark., and has been in business since 1975. They have been selling flags, flagpoles, banners, pennants and home and garden décor online nationally since 1995.
For more information about the 22,000 products Arkansas's FlagandBanner.com provides, log on to FlagandBanner.com. Become a fan of FlagandBanner.com on Facebook, or call one of their experts at 1-800-445-0653.
Little Rock, Ark. (PRWEB) March 30, 2013
As the recession lifts so are flags, banners, and pennants created in America by FlagandBanner.com for some pretty cool people and places across the country and American interests overseas. All of the products are made in America and help to improve the nation's recovering economy.
According to recent articles in Advertising Age magazine among others, products "Made in USA" are starting to gain popularity with both American businesses and consumers. According to one poll of 1000 Americans, 80% of them said they would rather buy American when they could and generally pay more for American made products.
This recent trend not only helps small American businesses that still manufacture in the U.S. but helps to grow the economy and bring manufacturing back home. These orders aren't just coming from the average small business, some are quite big names. Recent orders from some bigger (famous) names have included ceremonial banner hangers for popular late night show "Late Night with Jimmy Fallon" on NBC and flags for Tyler Perry Studio to be used as set decoration in Perry's next movie.
In the world of arts and history the Georgia O'Keefe museum ordered custom banners, Walton Art Center and the Kimbell Art Museum also ordered custom products. The Henry Ford Museum ordered our stock patriotic bunting and American flag pennants. So, if you are planning a trip this summer to those museums then you will be seeing some of FlagandBanner.com's work. Perhaps it might drum up a sense of patriotism knowing that these products and these customers kept American's working through a tough economic downturn.
Other American companies and government or military facilities working with an American manufacturer to keep jobs in America were Amazon.com, Augusta Golf Course, Lockheed Martin, P. Allen Smith, Anheuser Busch Beverage, Central Park Conservancy, Air Force Academy Society, U.S. Embassy in Tripoli, Chief of Naval Air Training, Walmart Distribution Center and Chick-fil-A just to name a few.
Kerry McCoy, owner of Arkansas's FlagandBanner.com, says, "It is always a great sign when you see orders like these coming in from around the country. It says things are looking up, 2013 looks to be the year things get back to normal."
McCoy says, "It's always fun to see your products on TV and it's especially nice that all of these items were made right here in America and helped to support American jobs."
Arkansas Flag and Banner, Inc., was established in 1975. Its headquarters are in Little Rock, AR with 25 employees.
Need to know when to fly the American flag at half staff? Sign up for Flag Alerts, timely e-mails notifying you when the President has proclaimed the flag to be flown at half staff. Need to learn about flag etiquette and flag history? Visit FlagandBanner.com for helpful documents that will teach you everything you need to know about flags.
For more information about the 22,000 products FlagandBanner.com provides, log on to FlagandBanner.com, become a fan of FlagandBanner.com on Facebook, or call one of their experts at 1-800-445-0653.
February 2013 marked the 100th anniversary of the Arkansas state flag. Kerry made two TV appearances to promote this piece of Arkansas history. Here is the video from one of those appearances.
On February 26th, 1913, the first iteration of the Arkansas State Flag was adopted by the legislature. It looked much like today's version sans the fourth star representing the Confederacy, which was added in 1923. Prior to 1913, the Natural State had no official state flag. Nearly seventy-five years after Arkansas attained statehood, the Daughters of the American Revolution sponsored a design contest because of their wish to present an official flag at the commissioning ceremony for the U.S.S. Arkansas battleship.
The winner of the contest was Miss Willie Hocker of Wabbaseka, a member of the Pine Bluff chapter of the Daughters of the American Revolution.
The Arkansas State Flag is rendered in the colors of the American flag. Twenty-five stars arranged in a diamond around the center design represent Arkansas as the twenty-fifth state to be admitted to the union and its status as the nation's first diamond-producing state. The two parallel white stars at the left and right points of the diamond symbolize the dual admission of Arkansas and Michigan to the United States. Four blue stars surrounding the state name in the center represent the nations that have owned the land now known as Arkansas: France, Spain, the Confederate States of America, and the United States.
Arkansas' Flagandbanner.com acknowledges this important milestone of our state flag. The company is proud to be Arkansas-based, employing local people, and providing quality products to the world. Miss Hocker's original design, as well as the 1913 and 1926 versions of the Arkansas state flag can be purchased at http://www.flagandbanner.com.
2013 marks the centennial of the Arkansas State Flag. To commemorate this great milestone, Arkansas' Flagandbanner.com will make custom historic state flags on demand.
Kerry McCoy, President of Arkansas Flag and Banner visits with Chris Kane, host of Good Morning Arkansas on December 14, 2012. Kerry's message was "If everyone would buy just $64 in USA Made products then 200,000 jobs would be created."
On the morning of January 2, 2013 I called my local banker, Al Hodge, at Arkansas Capital, to discuss the refinancing of my downtown real estate.  He and I had been talking, for months, about using the equity to help Arkansas Flag and Banner get through this recession.  That is when he told me the bad news, "The SBA 504 refinancing loan was eliminated as part of the "Fiscal Cliff" negotiations".  What? Why?  It helps businesses.  It is a loan not a grant!
I felt angry and helpless.  Then decided to make a difference and write a letter to every Senator and Representative.  My children and I set up an assembly line and for two and a half days we signed, stuffed, licked, and stamped 550 letters.  In addition, we hand wrote a short note on every envelope and letter to try and get their attention.  Read our letter here.
It was an enlightening process for our whole family.  I learned that not just anybody can write to Washington because it is expensive and labor intensive.  It cost $500 in stamps and envelopes, you need access to a commercial printer, and it is labor intensive (I knew I had kids for some reason).  I will continue to learn as I watch for what kind of results that follow in the next few weeks.  I will repost when I find out.
By Meghan Pittman
Flagandbanner.com came from humble beginnings. My mother, Kerry McCoy, started Arkansas Flag and Banner in her sitting room in 1975. By the time I was ten years old I could identify banner hardware from a distance and would maturely complain about incorrect flag display. Few people are as vigilant about flag etiquette as I am, but Flagandbaner.com is going the distance to educate others with their interactive website, informative videos and flag alerts. One of their newest missions is to make flag display, etiquette and installation easy and accessible to the community.
Display (See images below)
When hanging the flag on a wall, either vertically or horizontally, the union jack or star field should always be in the upper left hand corner. There is often some confusion when hanging the flag on a window in your business. The flag should appear correct from the outside of your building and not from inside the lobby or entrance.
The American flag should always be displayed above the State flag. The State flag should be displayed above any company or city flags with six inches separating each flag on the halyard or rope.
Another arrangement is to display your flags on three separate poles. When the flags are flown from adjacent staffs of the same height, the American flag should be hoisted first and lowered last. No flag or pennant may be placed above or to the left of the flag of the United States while within our borders.
I know that the American flag is a shared symbol of our country and patriotism, after years in the flag business I have found that each of us associate it with something different and deeply personal. Some are reminded of the day their loved ones returned from the war. For those who have been abroad it reminds them of home and family. I've had children excited to tell me about the stars and stripes and veterans tell me the journey of the flag they've brought in to be destroyed. As for me, it transports me back to that awful morning on September 11, 2001. I arrived at AFB in shock and scared to find 200 people in line at nine o clock in the morning to buy a flag. I have never been so proud to be an American. I even sold the flag off my desk. You never know what your stars and stripes will inspire in others.
All of us walk past flags every day. They do not always distract us from our paths but we all notice if they are wrong. Be sure that you are taking care of our national symbol. For more helpful tips or to sign up for flag alerts that will remind you when to lower your flag to half-staff visit us at flagandbanner.com.
Meghan Pittman is the daughter of Kerry McCoy, founder and president of Arkansas Flag and Banner, Inc.