FREEPORT (WGME) — Even with a blizzard bearing down on Maine, the Freeport Flag Ladies showed how dedicated they are to their mission.
The ladies were out as usual Tuesday morning on Main Street in Freeport, waving their flags and honoring those who serve our country.
They've been doing this every Tuesday since September 11th, and clearly, nothing will stop them. They say they didn't stay out as long as usual Tuesday morning, but who can hold that against them.
The big game is this weekend. Here is a chart from the National Retail Foundation that surveyed consumers age 18 and up about the Super Bowl Commercials.
Opinions On Super Bowl TV Commercials
Information
Among those who plan to watch the Super Bowl answered the questions below.
Charts from the NRF Foundation's Retail Insight Center. To access this data and more research please visit the Retail Insight Center.
You can find this chart and more about Consumers and the Super Bowl here: http://research.nrffoundation.com/Default.aspx?pg=56#.VMfZEC6jt52
—————————-
You can find flag kits like those above at FlagandBanner.com
By ERNEST ROLLINS, Brazil Times Reporter
Park to honor all 5 military branches
Indiana – Three local agencies are spearheading major construction projects this year that would honor the county's past, present and future service men and women.
The Eliza Rizley Stacey Clay County chapter of the Daughters of the American Revolution (DAR), the Veterans of Foreign Wars Post 1127 and American Softball Kids are working to build a military park that would feature softball fields and a veterans memorial honoring all five branches of the military. Craig Park has been selected as the location of the military park.
DAR Veterans Committee Chairwoman Cindy Kowitz said three years ago club members expressed interest in doing a memorial for the six revolutionary war soldiers buried in Clay County. After searching for an area to plant six trees and install six markers in the soldiers' honor, they found out ASK was thinking of doing something similar.
"(After hearing about ASK's goals for the military park), we just jumped right in and said 'hey, this is something that we wanted to do and have been talking about it for a long time in the club,'" Kowitz said.
ASK representative Karen McQueen said the VFW-sponsored softball program has been seeking a more permanent field to play and began discussing the prospect of using property in Craig Park in Spring 2015. Since that time, through donations and a $5,000 grant from the Clay County Community Foundation in 2014, they are closer to their goal of opening up the softball fields with a tentative groundbreaking ceremony for the first field scheduled for next month.
"We were very fortunate to get the money," McQueen said about the grant. "It shows they see the softball field being a huge asset to the community."
In honor of the continuing VFW support and to recognize all service men and women in the county, it was decided the first field be named Veterans' Field.
"The VFW is backing us and the military has always been near and dear to us," McQueen said. "We have a lot of family members who serve in the military. We just want to give back to the armed services."
Memorial to honor all five branches of the military.
While ASK works to get the fields in place, DAR and the VFW are working to create the memorial. The agencies are already fundraising for the project. The goal is to have enough money to complete the project by Veterans Day.
Preliminary plans are to construct a five-point star featuring each service branch.
"Each point will display a service insignia laser-engraved in a black granite stone, as well as that branch's flag," according to a news release from DAR. "The American flag will be highlighted in the center of the star, and will always be lit at night to signify that our servicemen and women are always working to protect our nation."
In addition to the star, six shade trees will be planted in honor of the six revolutionary war servicemen and there will be a brick-paved walkway, the release continues. Kowitz said French Funeral Home has committed to donate the six trees, markers, five granite military branch emblems and an engraved bench to the cause. The VFW Post 1127 will provide all the flags for the park.
Also, anyone can purchase a brick that can be designed to their liking through DAR for $50.
Kowitz said local residents or businesses interested in donating can do so by contributing to an account at Riddell Bank titled "Craig Military Park." Also, the VFW post will host breakfasts each Monday from 8-10 a.m. at the post's headquarters on South Depot Street. A free-will donation will be taken with all proceeds going to the memorial. For more information about the memorial contact Kowitz at 812-443-0150.
"We're just real excited about it," Kowitz said. "We think it is a very important project. They need to be honored. Not just the people who died but all military personnel."
Original story: http://www.thebraziltimes.com/story/2159746.html

BY JOSHUA FECHTER : JANUARY 20, 2015 : Updated: January 21, 2015 7:39am
If you didn't know that Texas cities have flags, there might be a simple explanation: they're mind-numblingly, hilariously dull.
Many cities seem to opt for seals rather than flags, but a cursory search of Wikimedia Commons turned up about 20 flags belonging to cities in the Lone Star State.
San Antonio predictably sticks the Alamo right in the center of the flag, while Dallas and Houston just go with a giant star containing the city seal against differing backgrounds.
A few flags break the boring mold: Corpus Christi's flag features a seagull flying among eight stars in a simple yet elegant design while Von Ormy's flag features a two-headed bird of prey clutching a sword in its black talons.
However, a Buzzfeed article yanked a bunch of interesting city flags from around the globe to give a glimpse of what could be possible in Texas. Click here to check out the photos of the actual flags and then the photos of flags that are more interesting in design from other cities.
CBS News 8 – San Diego, CA News Station – KFMB Channel 8
By Debbie Wachter
New Castle News
For Veterans Day, Nov. 11, Arkansas FlagandBanner.com will honor our nations heroes all week long with free coffee and cookies Nov. 10 15, and will round out the week on Saturday, Nov. 15 with a special book signing of Eric Blehms Fearless: The Undaunted Courage and Ultimate Sacrifice of Navy SEAL Team SIX Operator Adam Brown.
The book, which will soon be a movie, tells the heart-wrenching story of Arkansas-native Adam Brown of SEAL Team SIX who was killed in action in Afghanistan. Browns widow, Kelly Brown, and members of the dive team from the Fearless Rock Adam Brown Underwater Memorial will be on hand to sign books. The volunteers regularly maintain and improve the memorial at Blakely Dam on Lake Ouachita, which flies underwater flags supplied by ArkansasFlagandBanner.com.
Veterans are invited to drop by during the week and share their stories while they enjoy free cookies and coffee in the showroom 8 a.m. until noon all week. Visitors may also enter to win a flagpole kit complete with Old Glory, proudly made in the U.S.A. Winners will be announced at the event Saturday.
Although Brown fell, his selfless actions led to his teams safe return and a successful operation. One SEAL was injured, but the compound was captured and the enemy killed. A true story of courage, Blehms book recounts Browns life in and out of the service.
You can celebrate our local heroes this week at Arkansas FlagandBanner.com, located at 800 West 9th Street in Downtown Little Rock.
Events for Veterans Week at Arkansas FlagandBanner.com:
Special discounts will be offered the entire week. For questions about this special weeklong event to honor our veterans, call 501.375.7633.
This story is from National Public Radio's blog. http://www.npr.org/blogs/thesalt/2014/08/18/340676181/more-military-families-are-relying-on-food-banks-and-pantries I just cut and pasted it here for ease of reading.
Despite the economic recovery, more than 46 million Americans — or 1 in 7 — used a food pantry last year. And a surprisingly high number of those seeking help were households with military members, according to a new survey by Feeding America, which is a network of U.S. food banks.
The survey — conducted in 2013 — found that almost 620,000 of the households using Feeding America services have at least one member currently in the military. That's one-quarter of all U.S. military households.
Deborah Flateman, president and CEO of the Maryland Food Bank in Baltimore, says she isn't surprised. Last year, her food bank started working with groups like the USO to provide food aid to families affiliated with nearby military bases like Fort Meade.
She says, so far, they've used their mobile food pantry to distribute more than 200,000 pounds of food to military families.
"They're not unlike any of the other families that we serve," says Flateman. "They meet hardship and they need assistance with food."
And other food banks and pantries say they're seeing a similar increase.
Margaret Young is with the Calvary Assembly of God Church in Dover, Del., about a mile from Dover Air Force Base. She says she noticed about four years ago that more military families were showing up at the church food pantry for help. She says they're usually young, junior-level service members with kids.
"And then of course they have younger spouses," says Young. "And the spouses, you know, when you have to relocate every couple of months or every couple of years, however that works, it makes it harder for them to find jobs. I think that's the primary reason."
Maura Daily of Feeding America says that's what they found in their survey: Both military and nonmilitary families are having a difficult time making ends meet. She says even though most of their clients work, they often have to make difficult choices.
"Between things like food and paying for their utilities, food and paying for transportation, food and paying for medicine or housing," she says. "So these are literally choices that people have to make between eating, putting a roof over their head, keeping the lights on."
In a written statement, Pentagon spokesman Nate Christensen told NPR that the Defense Department is reviewing the survey results.
UPDATE Monday Aug. 18, 10:52 a.m.: After reviewing the results, Christensen wrote in an email, "The Department of Defense disagrees with the methodology that Feeding America used to calculate the estimated percentage of military households served by its food assistance programs."
But Christensen also said that military pay and benefits compare favorably with the private sector, and if a service member has financial troubles, counseling is available.
But Joyce Raezer, executive director of the National Military Family Association, a nonprofit group that supports military families, says service members are often reluctant to seek such help. That's especially the case now that the military is downsizing, she says.
"People are afraid to call attention to themselves. They don't know who's getting picked to be asked to leave and who's going to get to stay and what the criteria are. And so a lot of these families are just laying low," says Raezer.
Also, it can be embarrassing to admit you need help with food. Raezer wasn't at all surprised that we were unable to get any military families to go on record for this story.
"The reason they go to the food bank is it's anonymous," she says.
But Raezer has no doubt the need is there, even if the Feeding America numbers seem high to her. She says some families have trouble managing their finances, with all the disruptions of military life, and especially if there's an unexpected bill for something like a car repair.
"Which may mean at the end of the month, things are a little tighter than they should be," she says.
And free food at the pantry might be just what they need to get by.
Local groups, families donate flags, poles for corner – Seward County Independent : News.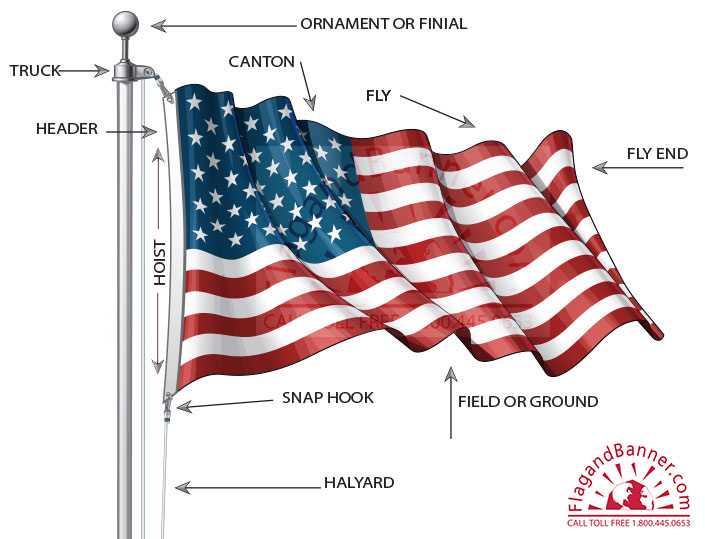 We have a great glossary of flag terms on our website as a resource not only for flag buyers but students needing information for book reports and other facts for essays etc. We love posting these great bits of information and sometimes history on our website. We always say we are more than just a flag store and we try to embody that claim as much as possible. We have a new flag diagram which can be very helpful to young scholars or those who would like to learn more about flags. It can be found on this page: http://www.flagandbanner.com/customer_service/glossary-flag-terms.asp