For Veterans Day, Nov. 11, Arkansas FlagandBanner.com will honor our nations heroes all week long with free coffee and cookies Nov. 10 15, and will round out the week on Saturday, Nov. 15 with a special book signing of Eric Blehms Fearless: The Undaunted Courage and Ultimate Sacrifice of Navy SEAL Team SIX Operator Adam Brown.
The book, which will soon be a movie, tells the heart-wrenching story of Arkansas-native Adam Brown of SEAL Team SIX who was killed in action in Afghanistan. Browns widow, Kelly Brown, and members of the dive team from the Fearless Rock Adam Brown Underwater Memorial will be on hand to sign books. The volunteers regularly maintain and improve the memorial at Blakely Dam on Lake Ouachita, which flies underwater flags supplied by ArkansasFlagandBanner.com.
Veterans are invited to drop by during the week and share their stories while they enjoy free cookies and coffee in the showroom 8 a.m. until noon all week. Visitors may also enter to win a flagpole kit complete with Old Glory, proudly made in the U.S.A. Winners will be announced at the event Saturday.
Although Brown fell, his selfless actions led to his teams safe return and a successful operation. One SEAL was injured, but the compound was captured and the enemy killed. A true story of courage, Blehms book recounts Browns life in and out of the service.
You can celebrate our local heroes this week at Arkansas FlagandBanner.com, located at 800 West 9th Street in Downtown Little Rock.
Events for Veterans Week at Arkansas FlagandBanner.com:
Special discounts will be offered the entire week. For questions about this special weeklong event to honor our veterans, call 501.375.7633.
This story is from National Public Radio's blog. http://www.npr.org/blogs/thesalt/2014/08/18/340676181/more-military-families-are-relying-on-food-banks-and-pantries I just cut and pasted it here for ease of reading.
Despite the economic recovery, more than 46 million Americans — or 1 in 7 — used a food pantry last year. And a surprisingly high number of those seeking help were households with military members, according to a new survey by Feeding America, which is a network of U.S. food banks.
The survey — conducted in 2013 — found that almost 620,000 of the households using Feeding America services have at least one member currently in the military. That's one-quarter of all U.S. military households.
Deborah Flateman, president and CEO of the Maryland Food Bank in Baltimore, says she isn't surprised. Last year, her food bank started working with groups like the USO to provide food aid to families affiliated with nearby military bases like Fort Meade.
She says, so far, they've used their mobile food pantry to distribute more than 200,000 pounds of food to military families.
"They're not unlike any of the other families that we serve," says Flateman. "They meet hardship and they need assistance with food."
And other food banks and pantries say they're seeing a similar increase.
Margaret Young is with the Calvary Assembly of God Church in Dover, Del., about a mile from Dover Air Force Base. She says she noticed about four years ago that more military families were showing up at the church food pantry for help. She says they're usually young, junior-level service members with kids.
"And then of course they have younger spouses," says Young. "And the spouses, you know, when you have to relocate every couple of months or every couple of years, however that works, it makes it harder for them to find jobs. I think that's the primary reason."
Maura Daily of Feeding America says that's what they found in their survey: Both military and nonmilitary families are having a difficult time making ends meet. She says even though most of their clients work, they often have to make difficult choices.
"Between things like food and paying for their utilities, food and paying for transportation, food and paying for medicine or housing," she says. "So these are literally choices that people have to make between eating, putting a roof over their head, keeping the lights on."
In a written statement, Pentagon spokesman Nate Christensen told NPR that the Defense Department is reviewing the survey results.
UPDATE Monday Aug. 18, 10:52 a.m.: After reviewing the results, Christensen wrote in an email, "The Department of Defense disagrees with the methodology that Feeding America used to calculate the estimated percentage of military households served by its food assistance programs."
But Christensen also said that military pay and benefits compare favorably with the private sector, and if a service member has financial troubles, counseling is available.
But Joyce Raezer, executive director of the National Military Family Association, a nonprofit group that supports military families, says service members are often reluctant to seek such help. That's especially the case now that the military is downsizing, she says.
"People are afraid to call attention to themselves. They don't know who's getting picked to be asked to leave and who's going to get to stay and what the criteria are. And so a lot of these families are just laying low," says Raezer.
Also, it can be embarrassing to admit you need help with food. Raezer wasn't at all surprised that we were unable to get any military families to go on record for this story.
"The reason they go to the food bank is it's anonymous," she says.
But Raezer has no doubt the need is there, even if the Feeding America numbers seem high to her. She says some families have trouble managing their finances, with all the disruptions of military life, and especially if there's an unexpected bill for something like a car repair.
"Which may mean at the end of the month, things are a little tighter than they should be," she says.
And free food at the pantry might be just what they need to get by.
Local groups, families donate flags, poles for corner – Seward County Independent : News.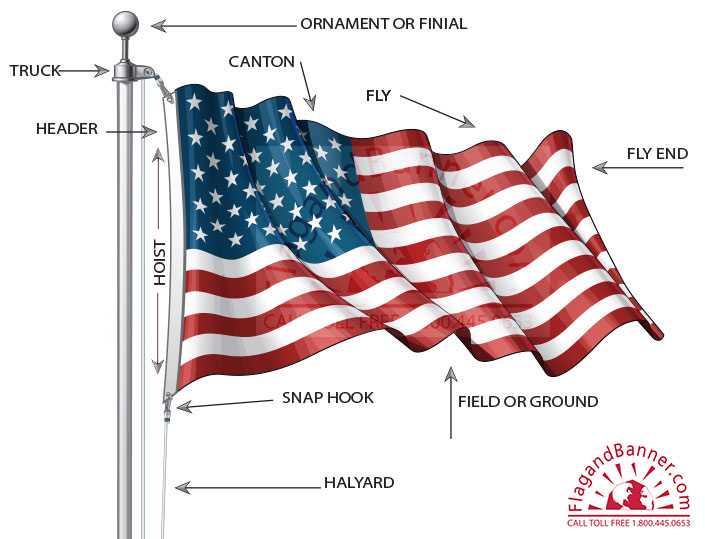 We have a great glossary of flag terms on our website as a resource not only for flag buyers but students needing information for book reports and other facts for essays etc. We love posting these great bits of information and sometimes history on our website. We always say we are more than just a flag store and we try to embody that claim as much as possible. We have a new flag diagram which can be very helpful to young scholars or those who would like to learn more about flags. It can be found on this page: http://www.flagandbanner.com/customer_service/glossary-flag-terms.asp
A construction company shows a video of the tallest flagpole installation ever. http://mortenson.wistia.com/medias/tejnwpitig
The flag is to honor servicemen and women who gave their lives in service to their nation. What a great tribute!
SIOUX FALLS, S.D. (AP) — A committee is asking for people to submit designs for a flag to represent South Dakota's largest city by next week.
The Committee to Establish a Suitable Flying Banner for the City of Sioux Falls said a panel of judges will choose designs to display to the public in August, but that it would be up to the city council to make any flag official.
"We're a city that's diverse, ambitious, expanding and we need something like a flag to serve as a central rallying point," committee chairman Hugh Weber told the Argus Leader newspaper (http://argusne.ws/TYg7iv ).
Designs must be submitted to the committee by July 15.
The North American Vexillological Association, which is devoted to the study of flags, surveyed the largest 150 communities in the nation and found that only Sioux Falls and two others lacked a city flag.
Seven communities in South Dakota are known to have an official flag. Discussions of creating one for Sioux Falls have occurred in the past but went nowhere, according to City Attorney David Pfeifle.
The committee wants a simple design, preferably one that a 5-year-old child could draw from memory. The panel includes Weber's 5-year-old daughter, to ensure the chosen design meets that standard.
Zeke Hanson, a traveling photographer and videographer who works in Sioux Falls about 10 days each month, has already submitted a design.
"It's a really cool opportunity to be involved in something like this," he said. "It's fun to put some ideas together for the flag. Let's see what we can do for Sioux Falls."
___
Online:
www.siouxfallsflag.com
___
Information from: Argus Leader, http://www.argusleader.com
Every 1st Monday we come together as a whole company and have a big meeting. At this meeting the ABC Bear award is passed around. Today was Madison's turn to hand the bear out and she surprised us all with a poem and then awarded the bear to all of us. Here is Madison's poem:
When faced with this dilemma, How could I choose?
Could somebody win and somebody lose?
There is gregarious friendly Sam and quietly competent Sarah
That keep the showroom running and the Postal meter humming!
Trustworthy Tim and Dedicated Diana
Get the custom flags made and also the Banna's!
Margarita is sewing hammers it out, she is one person we can't do without.
Taylor ships and manager out site, taking our S.E.M. high as a kite!
Jeremy searches and purchases our stock
Arwen posts and helps me A LOT!
Roger is the jack of all trades, and the building improves with each passing day.
Tenaciously Talented Tammie is a marketing double whammy
and Stephen with his programming skills Dedupes and fixes our computering ills.
Sandra and Charles tend to the numbers and balance the books…they fill me with wonder.
Nathan is working 3 different places…He could be Sybil with all of his faces!
Mark, Tom, Preston, and Paul come sit at that phone and call, call, call.
Bonna, like Donna except with a B, dots every i and crosses all t's.
Kirk is a clown and sometimes he's loud, but he calls all his quotes and that makes me proud.
There's Grady with his calm cordial way, his customer service often saves the day.
And Kerry with her bawdy laughter, you know she's here by the shake of the rafters
Her leadership style and her fun party way, makes coming to work a joy each day.
Each one of you special, important and needed, Together a team that cannot be "beated"
So when posed with the question who goes above and beyond
Each one of you do so I can't wave a wand and choose just one
Without each of you this place wouldn't be the place that I love AFB Family
- Madison, 6-2-2014, MMMM
In the United States, there have been many attempts at making it a criminal offense to dishonor the American Flag, such as burning it in protest for example. Such laws have always failed due to "freedom of speech" or in this case political expression.
Egypt's outgoing interim president, after recent protests and uprising in their nation decreed that dishonoring their flag (and their national anthem) is a punishable offense. The law states that the crime could lead to one year in prison and a fine of more than $4,000.
Is that too tough of a law? What if it were put on the ballot here in America? Would you approve or disapprove?
You can read more here: http://www.foxnews.com/world/2014/05/31/egypt-criminalizes-dishonoring-anthem-flag/?intcmp=latestnews
The Montreal Canadiens flag will be flying in front of Boston City Hall in the next few days, if that city's mayor follows through on his bet with Montreal Mayor Denis Coderre.
Denis Coderre bets Boston mayor the Habs will win The Habs defeated the Bruins 3-1 on Wednesday in Game 7 of their NHL playoff series, eliminating Boston from the playoffs.
Habs fans flooded Ste-Catherine Street to celebrate the Habs 3-1 win over the Boston Bruins on Wednesday night.
While Bruins fans lick their wounds today, Boston Mayor Marty Walsh has a bet to fulfil.
The mayors of the rival teams' hometowns bet that whoever lost the series would have to wear the other town's jersey and fly the team's flag at city hall for a week.
Walsh said he plans to make good on the bet, just as soon as Coderre sends him a flag and a jersey in the mail.
The Boston mayor joked the flag will be up above city hall for about 10 seconds.
But he said the most difficult part of the bet will be wearing the Canadiens jersey.
"That's going to be a tough one for me," he said.
Coderre is currently in Europe on a cultural and commercial mission. He has been following the series, however, and today tweeted that he'll be in touch with Walsh to work out the logistics of their agreement.
Buy a Canadiens banner here: http://www.flagandbanner.com/Products/DBANN01530031.asp