Watch the Arkansas Razorback Cheerleaders demonstrate how to best utilize a spirit flag during a football game. The flag featured in the video was made by Arkansas' FlagandBanner.com
Kerry McCoy, owner of Arkansas' FlagandBanner.com was recently featured on IdeaMensh.com a community for entrepreneurs to share their stories about building their business.
You can read the full interview here: http://ideamensch.com/kerry-mccoy/
Little Rock, Ark., — Flag and Banner.com, a leading retail supplier of American flags and patriotic items, recently announced that hurricane flags are making a comeback after nearly two decades on the sidelines.
Kerry McCoy, owner of Flag and Banner, said that "What may seem like a step back in technology is really just one more way to protect the public. After the Katrina disaster and after Sandy last October, we all want to feel safer and to have all possible warning tools available."
"During the past thirty-nine years," McCoy said, "the length of time that I have been in the flag business, I have seen occasional purchases of U.S. Storm Signal flags, consisting of one or both of the red Gale Storm Pennant and the red and black squared Hurricane Storm Flag. But ever since Katrina, they are making a huge comeback because they really are needed."
In 1989, after 100 years of use, the Coast Guard found Storm Signal flags to be an inferior warning device compared to other technological devices such as television and radio. But today, with more storms and with what seem to be increasingly stronger storms, the Coast Guard is trying everything they can to protect coastal resident and visitors, and that includes bringing back the "Hurricane" flag. "While the flag's reach is limited, when storms approach the surge is sometimes so powerful other means of communication can be lost. So I believe we can expect to see more of the red and black squared flags flying along the coast for residents, boaters and tourists to observe," Kerry said.
If you live in or plan to visit a coastal area during hurricane season which is June 1st and ends November 30th you may want to not only watch for these red and black warning flags but also prepare a basic emergency supply kit. An emergency supply kit infographic is available for download at www.flagandbanner.com.
The National Weather Service recommends the following:
1 gallon of water per person per day for at least 3 days
Food, at least a 3 day supply of non-perishable food
Battery or hand crank radio (A NOAA Weather Radio with tone alert and extra batteries for both is also recommended)
Flashlight and extra batteries
First aid kit
Whistle to signal for help
Dust mask, plastic sheeting and duct tape to shelter-in-place if necessary
Moist towelettes, garbage bags, plastic ties and hand sanitizer
Manual can opener
Wrench or plies to turn off utilities
The NWS  also advise that if you take prescription medication, have an infant child or pets, that you should not forget to add their needs to the emergency kit. Include extra water for your pet along with their food and don't forget diapers and wipes for your infant. You may also want to include a favorite toy or two for children.
Another handy tip is to include a set of gallon size zip top plastic bags to store your important documents such as insurance policies and bank account records or even your wallet with cash.
While you may not live comfortably in the aftermath of a hurricane or other weather spawned by the storm such as tornadoes, high winds and flooding, an emergency kit can make life a little easier to bear during that time.
For more information about hurricane flags or other nautical signal flags contact one of the friendly Flag Experts at FlagandBanner.com by calling toll free 800.445.0653.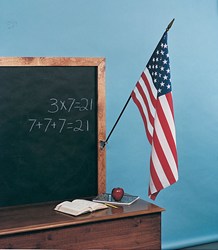 Little Rock, Ark. (PRWEB) July 30, 2013
Each year consumers are inundated with back to school advertisements starting in mid-July. Most of these ads focus on the students' needs such as clothing and supplies but administrators and teachers are also heading back to school, too. Schools from pre-K to collegiate level have varying needs throughout the school year for items not found on the traditional back to school list.
FlagandBanner.com has noticed that the needs of the educator are a little different depending on the age group involved or their educational niche. For the first time, FlagandBanner.com is offering a 15% discount to educators on in stock products and free art set up on custom orders. This discount will be available from July 29, 2013 until September 3, 2013.
Some examples of the type of different or unique items educators and administrators may be looking for are listed below:
History, social science or literature teachers, for example, often seek out posters with historical and educational facts that engage the students for their classroom walls. FlagandBanner.com recognized this need after talking with teachers and carries a line of educational posters for educators which the company plans to continue to expand on. If educators have specific ideas or requests for educational posters they can e-mail Kerry.McCoy(at)flagandbanner(dot)com with suggestions or even request custom posters.
Band directors may be looking for custom marching banners or hardware and parade accessories for the upcoming holiday parade season. These banners come in many styles and formats and are available with or without hardware packages.
School principals may not be on the hunt for glue sticks and writing paper but they may be seeking ways to direct traffic around the school pick up and drop off area for parents. One of the best ways to direct traffic is with string pennants. The pennants are easy to use for marking the pick up area. The pennants are eye catching and colorful and keeps staff from having to direct traffic.
School athletic directors or coaches may be looking for ways to make their teams stand out. One of the more popular options the last few years is using breakaway banners. In the past, paper banners were used but now players get to tear through vinyl banners with colorful images without waste. The banner uses hook and loop fastenings down the center allowing it to be put back together for the next game. Because of the great flexibility of breakaway banners their longevity and usefulness for other events make them a bargain for many school sports programs.
Another popular item for school athletic programs, high school or collegiate level, are spirit flags that can be used during events to rally teams and used as school identification at events.
School administrators, club advisors and others may also be looking for unique fundraising opportunities for their various programs. Many schools have been trying alternative fundraisers to the standard gift wrap and candy programs of the past. FlagandBanner.com has several fundraising options available for schools such as selling branded mascot gift items or selling American flags and flag kits.
ROTC sponsors may also be looking for parade accessories, or new or replacement parade flags and poles for the honor guard.
Over the last 15 years schools and universities have turned to custom street pole banners or other flags and banners for special events, special anniversaries, identification, campus beautification or directional needs for large campuses.
FlagandBanner.com is based in Little Rock, Ark., and has been in business since 1975. They have been selling flags, flagpoles, banners, pennants and home and garden décor online nationally since 1995.
For more information about the more than 22,000 products FlagandBanner.com offers, log on to FlagandBanner.com, become a fan on Facebook, or call one of their Flag Experts for answers to any and all questions about flags, banners, pennants and more at 1-800-445-0653.
Recently, I was asked to chair the Red Cross Blood Drive for my Club 99 Rotary group and I couldn't have been happier.  I have always liked the Red Cross.  Part of my duties was to inform and invite our members and to solicit volunteers to help.  I started thinking about what I knew about the Red Cross.  A host of memories began to flood my mind.  My favorite memory, and the one I decided to tell, was one of my father's.  After you read my short speech below you will again be reminded of why they are called "The Greatest Generation".
My speech went something like this:
Everybody has heard of the Red Cross and knows they collect and distribute blood exceptionally well.  And that there name seems to be synonymous with disaster relieve.   But they are more than that.
Can you remember the first time you heard or learned about the Red Cross?  Can you remember what you thought?
I can.
My father was a prisoner of war during WWII.  Shot down in Germany in 1944.  He spent 2 years in Stalag 13.  Yes, it was the same Stalag number as Hogan's Heroes, but it wasn't like the TV show.
Like so many war veterans, my father didn't like to talk about the war.  He didn't want to think about the hard times and the people he killed, or the people he saw killed.  But as time went by he healed and became proud of his service, the colorful war stories, and his purple heart.
I was about 12, when at the dinner table, father began to talk about the end of the war and how he was released from prison camp.  That is when I heard about this magical organization, called the Red Cross.  Dad said, "The day the war was over, we were released from prison, and walked out the prison gates to a Red Cross truck loaded with coffee and donuts. They were the first Americans we saw. We were so happy."
At the time of my father's release from prison, he weighed 90 pounds.
The Red Cross story was the first positive thing my father ever told me about the war.  I believe there are many more Americans with similar stories of hope brought by the Red Cross.
I hope you will all join me in supporting our local chapter.    This month we will be having a Rotary Blood Drive for this great organization.
In honor of the women who fought for the 19th Amendment giving women the right to vote and the women who still fight for the Equal Rights Amendment (just 3 votes short of ratification) FlagandBanner.com has rolled out a new women's rights product line.
Little Rock, Ark. (PRWEB) July 12, 2013
Women's Rights Day 2013 will be on August 26th marking 93 years of women having the right to vote in America. Despite this win for women, the United States of America does not have an Equal Rights Amendment for women. The original Equal Rights Amendment written by Alice Paul was sent to Congress in 1923, 90 years ago this year but the ERA has not become a part of America's Constitution.
The media focused on ERA YES buttons and placards and the "Bra Burning" protests in the 1960′s and early 1970′s but there are still women today working to get the Equal Rights Amendment passed again and Ratified. The original Ratification expired but was only short 3 states to gain approval.
A recent discussion about the ERA disturbed Kerry McCoy, a female entrepreneur and president of FlagandBanner.com. McCoy identifies with the women who have fought for equal rights in America. In honor of those women, her company, FlagandBanner.com has designed a new line of women's rights products, 4 new flags based on historical designs such as the ERA YES flag, Suffragettes flag, feminist and feminine anarchy and has added educational information graphics to their website for anyone to use.
Kerry McCoy, president of Arkansas' FlagandBanner.com started her business in 1975 during the time the ERA was being put to states for Ratification. Kerry reflects, "I was just the right age, at the right time, to see all the changes happening for women in our national news. As I was graduating from high school my mother, speaking from her generations perspective, asked me, what did I want to be: a secretary, nurse, or school teacher? I was in shock! Limitations had never occurred to me and I didn't want to be any of those things. Thank goodness for the women like Barbara Walters, Gloria Stein, and Hillary Clinton who opened the doors for us to walk through."
Kerry continues, "When I started Arkansas Flag and Banner there were sales quotas mandated by the Federal Government requiring the "Good Ole Boys" archetype to do business with women. AFB and many other women entrepreneurs benefited greatly from this program. It was much like breaking through the Glass Ceiling of today."
McCoy founded her business in 1975 with $400 and has turned it into a multi-million dollar company with 25 employees and 2 offices in Arkansas and an international presence on the Internet since 1995.
To learn more about the Equal Rights Amendment visit FlagandBanner.com's Women's History page, the National Organization of Women or the Equal Rights Amendment official website.
FlagandBanner.com is a woman owned business, based in Little Rock, Ark., and has been in business since 1975. They have been selling flags, flagpoles, banners, pennants and home and garden décor online nationally since 1995.
For more information about the more than 22,000 products Arkansas's FlagandBanner.com offers, log on to FlagandBanner.com. Become a fan of FlagandBanner.com on Facebook, or call one of their experts at 1-800-445-0653.
Here are three new videos from the past week.
KARK 4 interview with Kerry McCoy on July 4, 2013.

Fox 16 interview with Kerry McCoy on July 3, 2013.
Commercial airing on KARK and Fox 16.
We did a fun tutorial for those that forgot or haven't had time to dress up an their door wreath for the upcoming 4th of July this week.
Materials list for project:
Pipecleaners (use a color that matches the overall color of your wreath if you can)
Sharp scissors
Stapler (for thin ribbon a regular desk stapler is fine, for thick velvet ribbon use a heavy duty stapler)
Ruler for consistent lengths
Ribbon (You can buy the ribbon we show at our website or in the showroom at 800 W. 9th, Little Rock, AR 72201.)
Little Rock, AR (PRWEB) June 25, 2013
Since Christmas 2012, FlagandBanner.com has run a monthly contest on their website, on Facebook and in their showroom. Each month they have offered a different product to appeal to a broad audience among their various customers which include both businesses and consumers.
The current contest is a judged decorating contest, where Facebook fans will choose the winner.
Other recent contests have been a patriotic gift basket worth $150, won by Sue in Missouri and on Flag Day an onsite Flag Retirement event at their showroom offered a random drawing to attendees to win a free flag and flag pole. Janet of Roland, Arkansas won that prize.
According to advertising research, many consumers see advertising as an annoyance but they look at contests differently, Kerry McCoy owner and president of FlagandBanner.com tends to agree. "Originally the contests were a way to grow our Facebook fan base. In December 2012, we had around 833 "likes" on Facebook. Since the monthly contests were added to our advertising strategy our "likes" on Facebook have grown to more than 1200. While this is not a huge number it is an improvement and has helped to improve our interaction with customers on our Facebook page. It makes us look more approachable to our customers, which is always a good thing."
When running a contest, businesses have to follow certain rules and regulations but they are relatively simple. All contest and promotional games must clearly and conspicuously disclose each of the following:
All the rules, regulations, terms and conditions of the contest itself
The maximum number of puzzles or games that may be necessary to complete the contest and determine winners
The maximum amount of money, including postage and handling fees, which a participant may be asked to pay to win each of the prizes offered
The date(s) the contest will end, and the date(s) when all prizes will be awarded
The exact nature and approximate value of prizes must be disclosed clearly and conspicuously when they are offered
Misrepresenting in any manner the odds of winning any prize is prohibited
All prizes of the value and type represented must be awarded and distributed
FlagandBanner.com requires entrants to agree to be part of their mailing list but does not require payment nor do they require entrants stay on the mail list. The mail list does provide opportunities for future contests, discounts, online coupons and flag alerts for half staff days so many enjoy being a part of the mailings. FlagandBanner.com does not sell their mail list or share it with other entities and they tend to send around 5 to 8 e-mail "blasts" per month.
Contest winners have been very positive about the products they have received and the company has gotten many letters from their winners about the quality or products they have received. Winner Mark M., said he loved his patriotic flagpole kit he won that was almost a $200 value, and Jeff who won the Gadsden contest wrote to say, "Wow! I don't think I've ever won anything like this. I just wanted to write and say thank you!"
FlagandBanner.com's first winner, Pamela won a handmade patriotic Christmas wreath showcasing patriotic Christmas ornaments. She has been a very active member on FlagandBanner.com's Facebook since winning and often shares FlagandBanner.com posts with her Facebook friends. These Social Media interactions get customers to share with their friends and provide old fashioned word of mouth advertising, one of the best forms of advertising a business can get.
Businesses and consumers are encouraged to call FlagandBanner.com Flag Experts at 1-800-445-0653 to answer flag display questions and things such as what size flag should fit their pole and so on. Etiquette and other information can be found on their website: FlagandBanner.com where they are more than just a flag store; they are Flag Experts with more than 38 years in the flag business.
Senator introduces a bill requiring the Federal Government to buy only American Made flags – such as the flags that we here at FlagandBanner.com sell. What do you all think? Should the government require all its agencies to buy American Made Flags? For that matter, shouldn't they buy American Made whenever possible anyway? What do you think? Share your thoughts with us! Here is the link to the article:
http://www.brown.senate.gov/newsroom/press/release/on-flag-day-brown-introduces-bill-requiring-federal-government-to-buy-american-made-flags